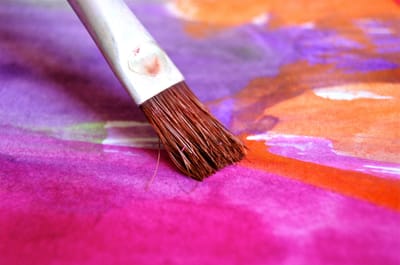 This is a new adventure in creating my art work!

My paintings are evolving, as we all are. I am venturing into the Contemporary Abstract Art world, and why not? In all other aspects of my life, I have always explored the unknown, played with the mystery of creation, yet lately I find myself wanting to unveil - expose - even more of myself in my art. Rather than looking at something and then painting it - which I do so often. I want to translate what I am feeling and then transfer those feelings to my canvas. I want to paint my life from the inside out. I want my paintings to be internally ignited! I want the shapes and forms to have a forceful presence. I want my chosen palette to be a reflection of energetic colors on my canvas! From my meditative contemplation, and because of looking inward, light then creates a path to follow, regardless of its recognizable content. This shift in my perspective is a new paradigm. The unknown becomes beautiful and alive!

I have found new expression in the Contemporary Abstract Art world. I will start each painting with a gallery wrapped organic linen or cotton canvas. After gesso, I will apply a water based layer, giving the painting a textured appearance. Layers of gold, silver and copper leaf, are then followed by French milled, museum quality, oil paints. This unique layering technique will give my paintings a luminous quality that range from a peaceful etheral feeling to a vivid and vibrant splash! Come - share this new adventure with me and let's find out together if its something we both enjoy!

I will continue with my original style of painting of course, because I love that too.